OUR SIRES:

Rambunctious Rowdy of Amerikitties....

This is Rowdy. He had visitors recently and they said that he looked very differently than this picture. They said this picture makes him look mean. Well, he's definitely not. He is our gentle giant. And we just love him. We are very excited to add Rowdy and his "big boy" genes to the Amerikitty lines. Rowdy is a Exotic short-haired Persian. He is a red tabby and weighs in at around 15 lbs....pretty big for a Persian. Rowdy adds size, big round eyes and fabulous fur to our lines.....along with his amazing sweet demeanor.
---
CFA Champion "Give the boy a Prozac"....

Zac is SO calm and gentle, you'd think he really did take Prozac! Zac is a cream-point Himalayan. He is working on his Grand Champion points with CFA and is doing really well. As you can see, he decided to move "off set" for his picture but he is still a
real sweetie and I'm crazy about him. This boy stands in the sink for his baths like he's part
dolphin!

---
CFA Champion "One Nation Under God"....

Nation is the combination of all of the different Persians. He is an Exotic short-haired Persian, but has the coloring of the Himalayan, including the blue eyes and cream points. He is a hybrid Persian. But he is, of
course, a Persian, with all of the sweetness and look of the Persian. He is our sweet, baby that
will soon be the center of the Amerikitty Cattery. He is young ( in this shot), but will be our new Sire, as he grows up.
You can now see Nation as a full grown cat ( below ). He is the SWEETEST boy and, we think, extremely handsome! His coloring is unusual and fun. He is pretty grown up but still a baby to his "mom", me!

---
CFA Champion "Fairest in the Land" ( now retired )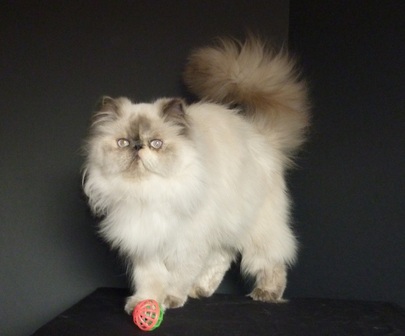 Fairest is a blue-cream point Himalayan. She is the daughter of Mama's Good Looks and is out of Prancenpaw lines and acts like it at show! She knows she is from a long line of Grand Champions as she sits for the judges. Fairest is a young lady, here, of 9 months and will be a future Dam at Amerikitties.
---
CFA Champion, "Raggedy Annie"

"Champion Pretty, Witty and Wise"....

We have been changing our program to include bi/tri colored Persians
and this is our latest addition, "Pretty, Witty and Wise". This little lady is a van Persian. That means that she is mostly white with color on her head, tail and one other spot on her body. Being a "van" is very specific, and she is perfect. She is also so very sweet. We are very excited about this young lady and will keep you updated with her progress.

CFA Champion...."Pretty, Witty and Wise"


---
"Welcome Home My Gypsy".....

Gypsy is a traditional Persian with long, flowing and, also, thick, red fur. She has a nice high nose, round eyes and lovely coat.....all commended by the CFA judges. Gypsy is a sweet young gal and one of our favorites.

---
"To Keep and Bear Arms"....aka. "Bear". Lovely Exotic short-haired Persian.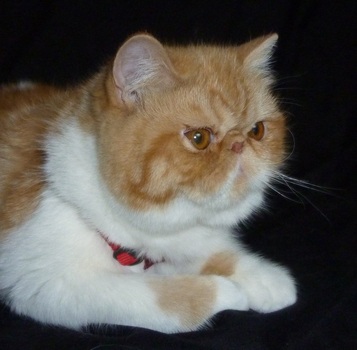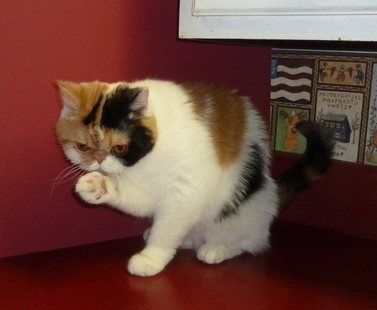 Cali-CO....Our beautiful Exotic short-haired kitty. Cali is a dominant calico with true black, red and white coloring. She is a sweet girl and a great example of a beautiful Exotic. Along with the true calico coloring, she also has beautiful copper eyes.
---